Visit The Dayton Art Institute
The Dayton Art Institute is now open Wednesdays through Sundays!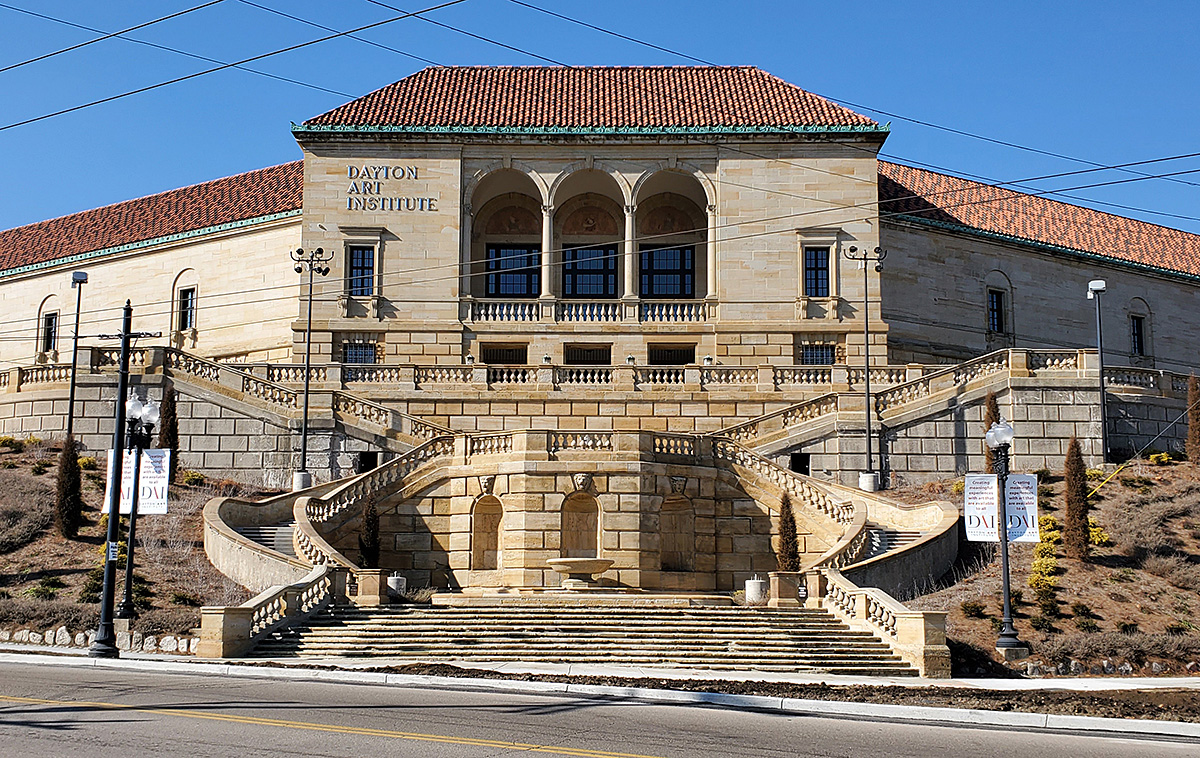 The Dayton Art Institute is located in downtown Dayton, just off Interstate 75. Our historic renaissance-style building, with its distinctive red tile roof, is clearly visible from the interstate. Use the information and related links on this page to plan your visit to the Dayton Art Institute.
Advance tickets are not required to visit the museum. If you wish to purchase tickets in advance, you may do so by clicking here.
Address: 456 Belmonte Park North, Dayton, Ohio 45405
Phone: 937-223-4ART (4278)
General information email: info@daytonart.org
If you have questions about visiting the museum, you may also submit your question through our contact form. 
An inherent risk of exposure to COVID-19 exists in any public place where people are present. COVID-19 is extremely contagious. In the interest of your personal safety and community health, please observe precautions. Visitors showing signs of illness may be asked to return at a later date. We ask that anyone who is experiencing symptoms of COVID-19 (including fever, cough, chills, sore throat, fatigue, shortness of breath or loss of taste) please refrain from visiting until you are symptom-free. By visiting the DAI, you voluntarily assume all risks associated with exposure to COVID-19 or other communicable illnesses.
Wednesday: 11 a.m. – 5 p.m.
Thursday: 11 a.m. – 8 p.m.
Friday-Saturday: 11 a.m. – 5 p.m.
Sunday: Noon – 5 p.m.
The museum is currently closed on Mondays & Tuesdays.
The museum is closed the following major holidays: Easter Sunday, Fourth of July, Thanksgiving Day, Christmas Day and New Year's Day.
Museum hours are subject to change due to  the pandemic, as well as special events such as Art Ball (second Saturday in June) and Oktoberfest (fourth full weekend in September). Please check here for updates or call 937-223-4ART (4278) for more information about visiting on a specific date.
Adults: $15
Seniors (60+), Active Military, Groups (10 or more): $10
College Students (18+ with ID) & Youth (ages 7-17): $5
Children (ages 6 & younger): Free
Museum Members: Free
Admission prices include all Special & Focus Exhibitions and the museum's collection galleries.
 Advance tickets are not required to visit the museum, but may be purchased online if desired.
Admission discounts such as Blue Star Museums, Museums on Us and Museums for All may also be available. See those program pages for more information.
Some programs and events carry an admission charge or registration fee beyond the museum's general admission and include admission to exhibitions and the collection galleries as part of that admission charge or registration fee.
Free parking is available in the museum's main parking lot. Additional parking is available on neighborhood streets and in paid parking lots in downtown Dayton. If additional parking is needed for a special event at the museum, the DAI Chief of Security may arrange for use of parking at the Dayton Masonic Temple and Greek Orthodox Church – look for signage.
Parking for Disabled Guests: There are four (4) parking spaces designated for disabled guests in the museum parking lot: two (2) on the south side of the Entrance Rotunda and two (2) in front of the Rike Pavilion.
School/Bus Parking: Passengers should disembark at the Entrance Rotunda. Buses should not park in the parking lot; please exit the lot and park on Belmonte Park North.
Travel by RTA Bus: Greater Dayton RTA bus stops are located at the northeast corner of museum property for Route 12 (Forest and Stoddard Avenues). There is also an RTA stop at the corner of W. Riverview Ave. and Belmonte Park North (Route 8). For specific route information, please log on to: www.iriderta.org or dial the RTA call center: (937) 425-8300.