The DAI offers a variety of talks throughout the year, including lectures in our Rose Auditorium, as well as gallery talks such as Curatorial Conversations and Object of the Month. Please note that all in-person talks are currently canceled due to the COVID-19 pandemic. Be sure to check out our online Object of the Month talks and virtual Language of Art programs, and watch for information about other upcoming virtual talks.
Upcoming Talk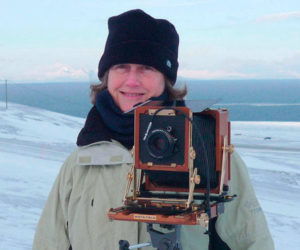 Archiving Eden: Virtual Artist Talk with Dornith Doherty
 Thursday, November 12, noon-1 p.m.
Texas-based photographer Dornith Doherty joins Kettering Curator of Photography and Special Projects, Katherine Ryckman Siegwarth, on Zoom for an in-depth discussion about the DAI's current Focus Exhibition, Archiving Eden: Dornith Doherty Photographs. Space is limited and advanced reservations are required. Once registered, you will receive a separate email with the virtual meeting information. Please register with an email address you check frequently.
> Click to register for the talk
Dornith Doherty is Distinguished Research Professor at the University of North Texas. She received a B.A. cum laude from Rice University and a M.F.A. in Photography from Yale University. A 2012 Guggenheim Foundation Fellow, she has also received grants from the Fulbright Foundation, the Japan Foundation, the Indiana Arts Commission, the United States Department of the Interior and the Houston Center for Photography. Doherty's work is exhibited widely and included in numerous collections worldwide. Doherty's photographic projects are rooted in the landscape tradition and analyze humanity's complex relationship to nature with an interest in stewardship.