The museum typically offers a variety of talks and conversations throughout the year, both on Zoom and in person. Please check here and on our calendar of events for updates. Be sure to also explore our digital resources, such as online Object of the Month and Art Vids for Kids presentations, as well as the Language of Art book club program.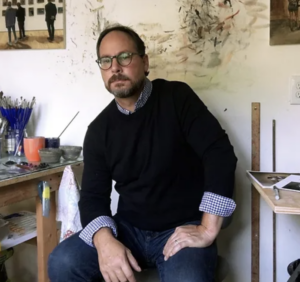 Exhibition Speaker Series: Joe Fig
Date: Sunday, January 14, 3-4 p.m.
Location: Gallery
Cost: Free to members; included in museum general admission for non-members
Advance registration encouraged but not required
Our Special Exhibition artist, Joe Fig, will be in-person at the Dayton Art Institute, for our Exhibition Speaker Series! From the paint-splattered barn of Jackson Pollock to the minimalist studio of Barnett Newman, Fig explores the process of making art, the working lives of artists, and the spaces where they work, what has been called the "preprovenance" of art. He recreates or imagines the artists at work, comparing the studios with the pristine museum environments where works are shown. Fig's work is enjoyable on many levels, both serious and playful, all made in painstaking realism on a diminutive scale.