Host Your Wedding or Event
Create memories that will last a lifetime!
The Dayton Art Institute combines a world-class art museum and architecturally significant building into the area's premier destination for weddings and special events.
The museum offers many elegant event spaces that will accommodate everything from an intimate luncheon for 30, to a seated dinner for 300 or a cocktail reception for 600. Your guests will be surrounded by masterpieces from around the world and across the ages, creating an unforgettable experience.
The DAI is a 2020 winner of The Knot Best of Weddings, an accolade representing the highest- and most-rated wedding professionals as reviewed by real couples, their families and wedding guests on The Knot, a leading wedding planning brand and app. Only five percent of the hundreds of thousands of local wedding professionals listed on The Knot received this distinguished award!
Our events team will help create the ideal setting for weddings, corporate parties and other special events. We offer a wide variety of spaces to accommodate events of all sizes and kinds—from gala celebrations, stylized luncheons/dinners and cocktail receptions, to employee appreciation events, retirement celebrations and reunions. We will work with you to develop a rental package customized to suit your specific needs.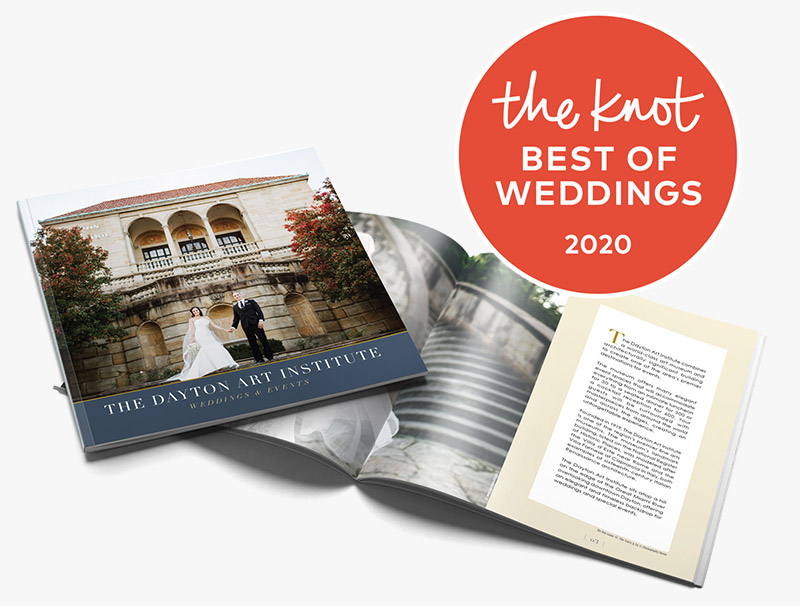 The Great Hall
The museum's majestic Great Hall provides a bold, impressive setting for wedding ceremonies, special dinners and more. It connects to the museum's galleries and Shaw Gothic Cloister, and it also offers a unique view of downtown Dayton. The Great Hall will accommodate 300-400 guests for a cocktail reception and 150 for a sit-down dinner.
Mimi and Stuart Rose Auditorium
The museum's recently renovated Mimi and Stuart Rose Auditorium provides the perfect setting for meetings, presentations, film screenings, concerts and theater productions. The architectural details make it one of Dayton's most beautiful auditorium settings! The classic feel combines with up-to-date lighting and audiovisual capabilities, and a stage manager is available to assist during events. Seating will accommodate up to 480 guests.
Hale Cloister
The tranquil outdoor setting of the Hale Cloister is ideal for small weddings or receptions. This Italian Renaissance-themed courtyard features a covered stone walkway around the perimeter and a grass courtyard with an elegant fountain. The Hale Cloister holds up to 160 for a wedding ceremony and 200 for a cocktail reception.
Shaw Gothic Cloister
This hexagon-shaped event space with period Gothic architecture is unique among event spaces in Dayton! It features a majestic glass-domed cathedral ceiling, brick walls and a view into the galleries. The Cloister can accommodate 250-300 guests for a sit-down dinner and 600 people for a cocktail reception.
Additional private and semi-private meeting spaces are available at the museum; contact the Event Rentals Department for more information.
Facility Rental Fees are based on a four-hour time period. The rental fees include use of the facility (space rented), all tables, up to 250 chairs, and security and facility personnel required by the Dayton Art Institute. You must be a member of the Dayton Art Institute to hold an event in the museum. 
Those museum members that maintain the status of Jefferson Patterson Society, as well as the Circle levels of Renaissance Corporate Society, receive a 20% discount on rental fees. Corporations (for profit) wishing to hold business or social functions must be annual corporate members.
Let's Talk About Your Event!
Our team has a passion for entertaining. Let us help you throw an exciting event set against a backdrop of timeless art and culture. To learn more, contact Donna Young at 937-512-0152 or dyoung@daytonart.org, or submit a message through our contact form.
Follow, tag, like and share the Dayton Art Institute Events Instagram page for photos of Dayton's premier weddings and events! @DAIevents.