Oktoberfest, taking place on Saturday and Sunday, features live music, family activities, outstanding artisans, delicious food, a Weingarten and, of course, an amazing selection of more than 50 craft and international beers!
Oktoberfest includes a fully covered Main Stage area and Food Court, plus a TV Tent with four big-screen TVs for all the weekend sports action. Live music is featured on two stages throughout the weekend: traditional German music in the Food Court and a variety of bands on the Main Stage. The Oktoberfest Artisans will return in 2022, offering a wide range of unique items for sale. The ACCO Brands FamilyFest, taking place noon – 4:30 p.m. each day, features special activities for all ages on the festival grounds.
Check out this preview on WDTN's Living Dayton:
Sunday Funday Happy Hour
Make it a Sunday Funday and visit Oktoberfest on Sunday, September 25, for special happy hour prices from 4 to 6 p.m. All draft beer, Weingarten and Cantina selections will be $5; bottles of wine will be available for $18. Bottle Shop excluded from happy hour prices.
ACCO Brands FamilyFest
Noon-4:30 p.m. each day! FREE and fun art activities for the whole family, including a collaborative art project and pretzel headband kits. Start the fun in ACCO Brands Family tent, located in front of the museum building and complete your art kit anywhere on the festival grounds or at-home.
SHUTTLES & PARKING
We strongly encourage using one of the Oktoberfest shuttle options highlighted below. Parking is available but very limited in the neighborhood surrounding the DAI. Bicycle racks will also be available near the River Gate entrance to Oktoberfest.
Important Parking Note: There is no parking on the levy across from the museum or in McKinley Park during any Oktoberfest events. Please park only in approved locations.
Oktoberfest Shuttles:
Park for free at the University of Dayton parking lot on River Park Drive, between Patterson Blvd & Main St, behind the Dayton Marriott. From the lot, catch the free Oktoberfest shuttle directly to the event. The shuttle runs Friday evening for Preview Party and all day Saturday and Sunday for Oktoberfest. 
RTA Shuttles from downtown Dayton return for 2022! 
Lederhosen Lunch: RTA provides free shuttle service from downtown Dayton during the Lederhosen Lunch on Friday. Shuttles run from 10:30 a.m. – 2:30 p.m. Look for shuttle stop locations along Monument Avenue, Wilkinson Street, Second Street, Main Street and Fifth Street.
Oktoberfest – Saturday & Sunday: You may park downtown and catch a free RTA shuttle to and from Oktoberfest on Saturday and Sunday. RTA shuttles run directly to the event from stops along Monument Avenue, Wilkinson Street, Second Street, Main Street, and Fifth Street. Look for the RTA shuttles with Oktoberfest destination signs and board at any stop along this route. There is no charge for the RTA shuttle ride. RTA shuttles will run from 11:00 a.m. – midnight on Saturday and 11:00 a.m. – 8:00 p.m. on Sunday.
RTA shuttle stop locations: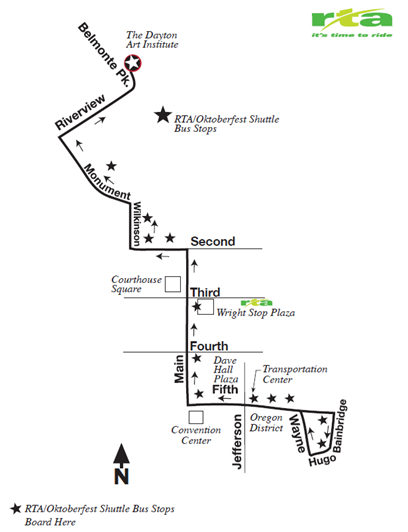 HOW TO GO
Saturday, September 24: Noon-11:30 p.m.
Sunday, September 25: Noon-7 p.m.
Oktoberfest General Admission (Saturday & Sunday):
Advance Tickets: $8 adults; $5 seniors (60+) & youth (7-18)
At the Gate: $10 adults; $7 seniors & youth
Children 6 and under admitted free
Presale General Admission tickets are available at the following locations (through the close of business on Friday, September 23): Dorothy Lane Market in Oakwood, Washington Square and Springboro; Arrow Wine on Far Hills and Lyons Road; Ghostlight Coffee on Patterson, Wayne and at the Second Street Market; Coffee Hub in Xenia and Beavercreek. General Admission tickets may also be purchased at the Dayton Art Institute during regular museum hours.
Return to the main Oktoberfest page
Please Note These Oktoberfest Policies:
The Dayton Art Institute does not allow the following at Oktoberfest: pets (except service dogs), backpacks and large bags, firearms, or other weapons.
Due to the evolving nature of the COVID-19 pandemic, there may be some adjustments to the event's usual format. Check here often and follow us on social media for the latest updates and information about event schedules and festival hours.
Oktoberfest features live music throughout the weekend! The Main Stage offers a wide range of rock, pop and more on Friday, Saturday and Sunday, while the Food Tent Stage provides traditional German music on Saturday and Sunday.
Lederhosen Lunch:
Ken & Mary Turbo Accordions, 11 a.m.-1:30 p.m.
Preview Party:
Weekend Effect, 8-11 p.m.
Saturday, September 24
Main Stage:
KC and the Moonlighters, 12:30-3:30 p.m.
Party Punch, 4-7 p.m.
DJ Kim, 8-11 p.m.
Food Tent:
Ken & Mary Turbo Accordions, 12-3 p.m.
Ken Taylor & His Six Fat Sausage Polka Band, 3:30-6 p.m.
Ken & Mary Turbo Accordions, 6:30-9:30 p.m.
Sunday, September 26
Main Stage:
TRUK, 12-2 p.m.
Ithika, 2:30-4:30 p.m.
Spungewurthy, 5-7 p.m.
Food Tent:
Ken & Mary Turbo Accordions, 12-3:30 p.m.
Ken Taylor & His Six Fat Sausage Polka Band, 3:30-6 p.m.
Entertainment schedules subject to change
32 artisans have been selected to bring the art back to Oktoberfest in 2022! Representing 9 disciplines and 10 states, both old favorites and exciting new wares are available in one tent.
Ceramics:
Bubba Jones Brew Cups
Sippel Steins
Artistic Earth Pottery
Jl vision

 Fiber:
Stage Struck Puppets
Leather:
Vintageliz
Painting:
Ashley Sullivan
Glass:
All About Glass Art
Studio 446
Nyminal Glass
Fused Glass Creations LLC

Jewelry:
Ziegler Designs, LLC
Beaded Journeys by Lauren
DNA by Daina
Danladi Designs
Jo Anne Vincent – Italiano
Trittello
Mythic Silver
Mixed Media:
Nature Green
John Lee
uniquerockart.com
RW2 Gallery

Photography:
Fly Wright Photography
Cleary Creative Photography
Dan Tye Photography

Woodworking:
Stahl Prof Svcs, LLC
Lon Baker-Wood Joiner
TurnAway
Rachel McFarlane
Rockford Woodcrafts
Something for every palate at Oktoberfest! Oktoberfest food options range from traditional German foods to Greek, Caribbean, Lebanese, and other ethnic specialties, as well as American fare. Many Midwest food concessionaires and Dayton-area caterers will offer a wide variety of delicious foods.
Vendors subject to change
Associate Board Alumni Brats & Metts
Bavarian Roasted Nuts
Bessie's Noodles,
Big B's Tasty BBQ
Black Jack Grill
Bourbon Street
Brock Masterson's
Cosmic Kettle Corn
Dayton Eintracht Singing Society
DK Diner
Dublin Pub

Greek Orthodox Church
Hamburger Wagon
Hey Hey Bar & Grill
Pretzel Hut
Kung Fu BBQ
RKP Vending
Schmidt's Sausage Haus
The Original Strudel Factory
Two Fat Indians
Young's Jeresy Dairy
It wouldn't be Oktoberfest without beer! The festival offers more than 50 different traditional, craft and international beers, on draft, as well as in bottles and cans!
Selections subject to change
Main Beer Truck – all draft beers $6
Miller Lite
Warsteiner OKT
Blue Moon
Warsteiner Dunkel
Warsteiner Pills
Leinenkugel OKT
Atwater Pumpkin
Konig Ludwig Weiss
Hop Valley Bubble Stash IPA
Strongbow Cider
Greek & River Gate Beer Trucks – all draft beers $6
Miller Lite
Warsteiner OKT
Leinenkugel OKT
Blue Moon
Hop Valley Bubble Stash IPA
Atwater Pumpkin
Warsteiner Truck – all draft beers $6
Warsteiner Oktoberfest
Warsteiner Pils
Warsteiner Dunkel
Konig Weissbier
Craft Beer Truck #1 – all draft beers $7
Great Lakes Oktoberfest
Southern Tier Pumpking
50W Doom Pedal
Franzkaner Hefe Weisse
New Belgium Juicy Haze
Founders Breakfast Stout
Bell's Two Hearted
Madtree Zeigler
Madtree Pumpcan
Moeller Orange Peel Krush
Craft Beer Truck #2 – all draft beers $7
La Chouffee
Weihenstephaner Festiber
Jackie O's Mystic Mama
Steigl Grapefrut
Boulevard Unfiltered Wheat
Eagle Banana Bread
Fretboard Vlad Pilsner
Urban Artifact Teak
Radeberger Pilsner
Einbecker Dunkel
Fat Head's Bumbleberry
Vedett Extra White
Bottle Shop – prices vary by beer
Warsteiner Pilsner
Cigar City Jai Alai
Smirnoff Red, White, Berry
Great Lakes Nosferatu
Founders Underground Mountain Brown
New Belgium Transatlantique Kreik
Franziskaner Hefeweizen
New Belgium VooDoo Ranger
Lone River Ranch Water
MadTree JuneDels Lemon Shandy
Weihenstephan Hefeweizen
Stone Hazy
Bitburger Pils
Old Rasputin Stout
Reissdorf Kolsch
Schneider Weisse Aventinus
Delirium Tremens
La Trappe Quadrupel
Arrogant Bastard
Duvel Belgian Strong Blond
Be sure to visit the Weingarten and Cantina during Oktobferfest.
Selections subject to change.
Preview Party
Pizzolato – Sparkling
Terra d'Oro – Pinot Gridio
Simi – Chardonnay
Spellbound – Pinot Noir
Z Alexander – Red Blend

Saturday & Sunday – all wines $7/glass & $25/bottle
White Wines:
Relax Riesling – Sweet & German
Three Pears Pinot Grigio – Light & Fruity
Overstone Sauvignon Blanc – Crisp & Dry
McManis Chardonnay – Full Bodied & Dry
Protea Rose – Soft & Floral
Red Wines:
Silver Gate Pinot Noir – Light & Smooth
Trivento Red Blend – Smooth & Jammy
Coppola Cabernet Sauvignon – Full-Bodied & Dry
Cantina – Featuring hard seltzers and more for $6
Topo Chico Seltzer – Strawberry Guava
Sway by Madtree- Grapefruit Ginger
Southern Tier King & Cola
Long Drink Traditional
Simply Spiked Lemonade