Charles Sheeler
Stacks in Celebration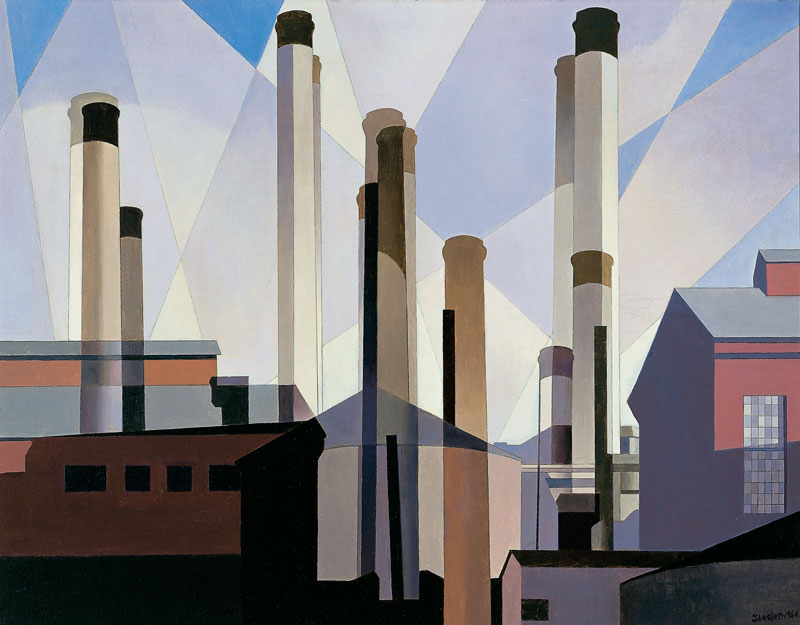 Required field: Do not use or remove
Kids content
Look!
Charles Sheeler was a painter and photographer. He looked for beauty in factories. Do you live near a factory with a large smoke stack? Do you think it is beautiful? Why?
Look at the factory in this painting. Do you notice the horizontal, vertical, and diagonal lines? Some lines then overlap. When lines are drawn together shapes are made. Charles Sheeler's painting is made up of geometric shapes. Which shapes can you identify?
Arts intersected
Where Painting and Photography Meet
Sheeler was as much a photographer as he was a painter. Self-taught, Sheeler did both commercial and artistic photography. His commercial work included photographing industrial sites, celebrities, and fine art for clients as varied as the Ford Motor Company, Vanity Fair magazine, and The Metropolitan Museum of Art. At the same time, Sheeler was acquainted with photographers who focused on the medium as an art form of its own, such as Alfred Stieglitz and Paul Strand. In 1920, Sheeler collaborated with Strand on the experimental film Manhatta, which you can watch below. The film explores the changing face of the urban landscape with dramatic camera shots and gives some sense of Sheeler's visual sensibilities.
Sheeler experimented with the two-fold ability of photography to capture real things, such as New York buildings, but also to reduce these to abstract shapes, and he applied his discoveries to his paintings. Stacks in Celebration is based on photography he did at the New Bedford Power Plant in Massachusettes in 1939–1940. This is Sheeler's third painting of this subject. You can see the first one, entitled Fugue, in the collection of the Museum of Fine Arts Boston here.
Look around
The 1950s
Sheeler painted Stacks in Celebration late in his life, in 1954. At this time, many artists were experimenting with color and gesture in paintings that were more and more abstract. For example, look in Gallery 202 at Norman Lewis's Prehistory and Elmer Bischoff's Untitled, both from 1952. Does Sheeler's painting look "behind the times?" Can you see ways that it resonates with these contemporary paintings or even anticipates later paintings in Galleries 202 and 203?
Expert Opinion
Art Celebrating the Future
Does this painting look like a factory or many geometric shapes? In the 1920s several American artists began to experiment with paintings that reduced subject matter to simple shapes, distinct outlines, and a smooth painted surface. Sheeler is associated with this movement that is known as Precisionism. With this clear style Sheeler was able to explore his own ideas about art and its relation to American life. Hear more about this aspect of Sheeler's art in the following audio clip with Will South, Chief Curator at The Dayton Art Institute from 2009 to 2011.
Transcript:

Charles Sheeler's painting, Stacks in Celebration, is a mix of reality and abstraction, as well as a mix of American and European influences. Sheeler was a photographer and took pictures of real places, like this factory. When he used his photographs to make paintings, he simplified and even eliminated detail apparent in the photograph and then added shapes that were not there, like the triangular rays you see in the sky. Sheeler's interest in abstraction came from European artists such as Pablo Picasso, but he wanted his art to look American, not European. For Sheeler, the factory was a symbol of American technology and strength, and technology was going to change the world. By mixing the reality of this American symbol, the factory, with abstract patterns and colors, Sheeler says to the viewer that his painting, like the factory, is a product of inventiveness and creativity. For Charles Sheeler, beauty was a mix of America, technology, and modern ideas. Art, he believed, could celebrate the present and the future at the same time.
Map it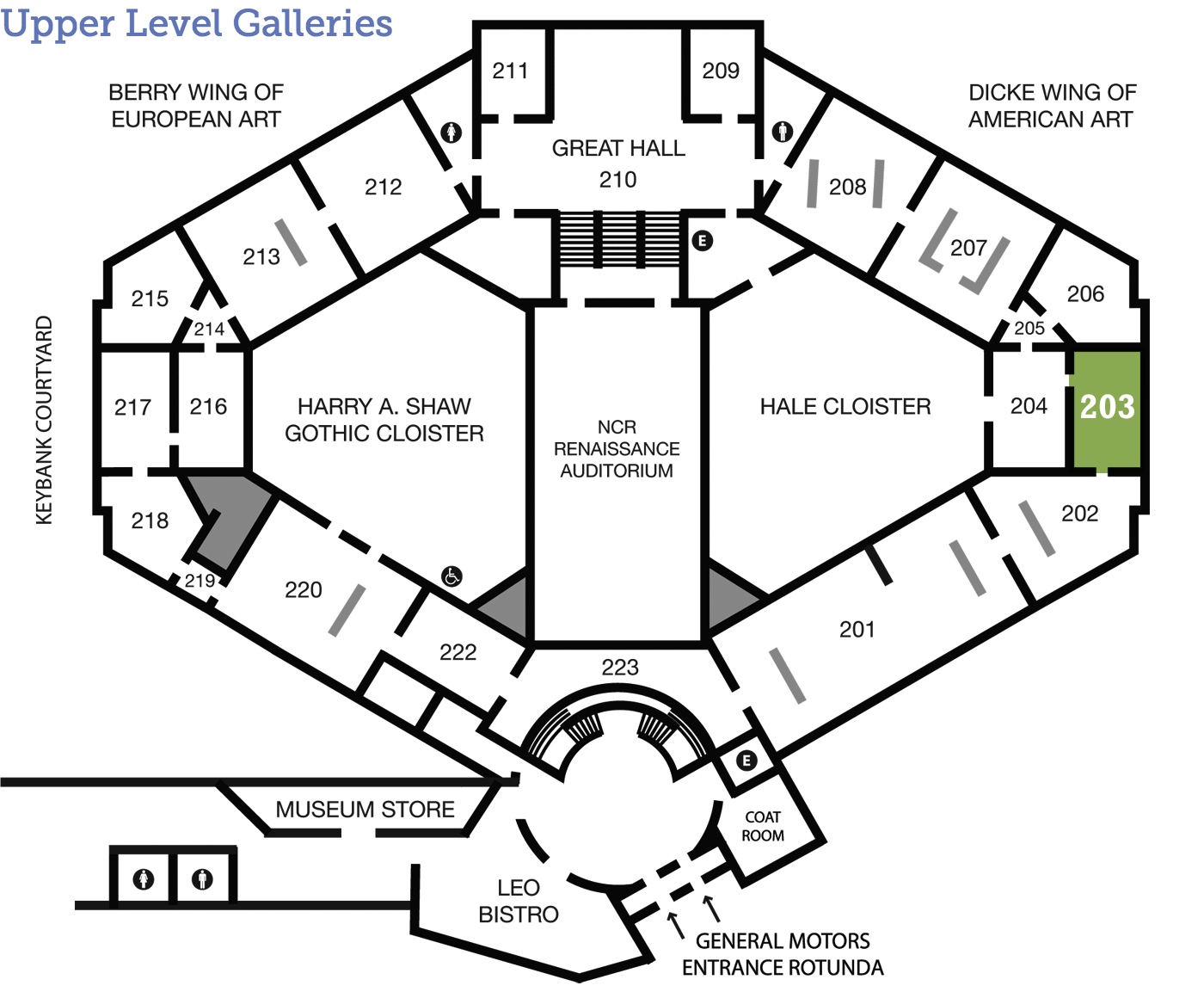 Talk back
What Remains to be Seen
Stacks in Celebration depicts an iconic image of American strength and ingenuity in the 20th century, the industrial plant. However, it omits many details, such as the workers who operated these plants or the smoke that poured out of the stacks. How might including these change the painting?
Charles Sheeler
Stacks in Celebration
(1883 – 1965) American
1954, Oil on canvas, 22 x 28 inches
Museum purchase with funds provided by the Eloise Spaeth Fund, the Virginia Rike Haswell Fund by exchange, the James F. Dicke Family, Dr. and Mrs. Robert A. Goldenberg, Mr. and Mrs. Thomas J. DeLuca, Mr. and Mrs. Thomas A. Roddy, Mr. and Mrs. William B. Ten Eyck, Mr. and Mrs. John W. Longstreth, Mrs. Joyce M. Bowden, Merrill Lynch & Co. Foundation, Inc., Kathy and Frank Hollingsworth, Esther Scott Carter, The Dayton Art Institute Docent Corps, and other contributors 1998.52