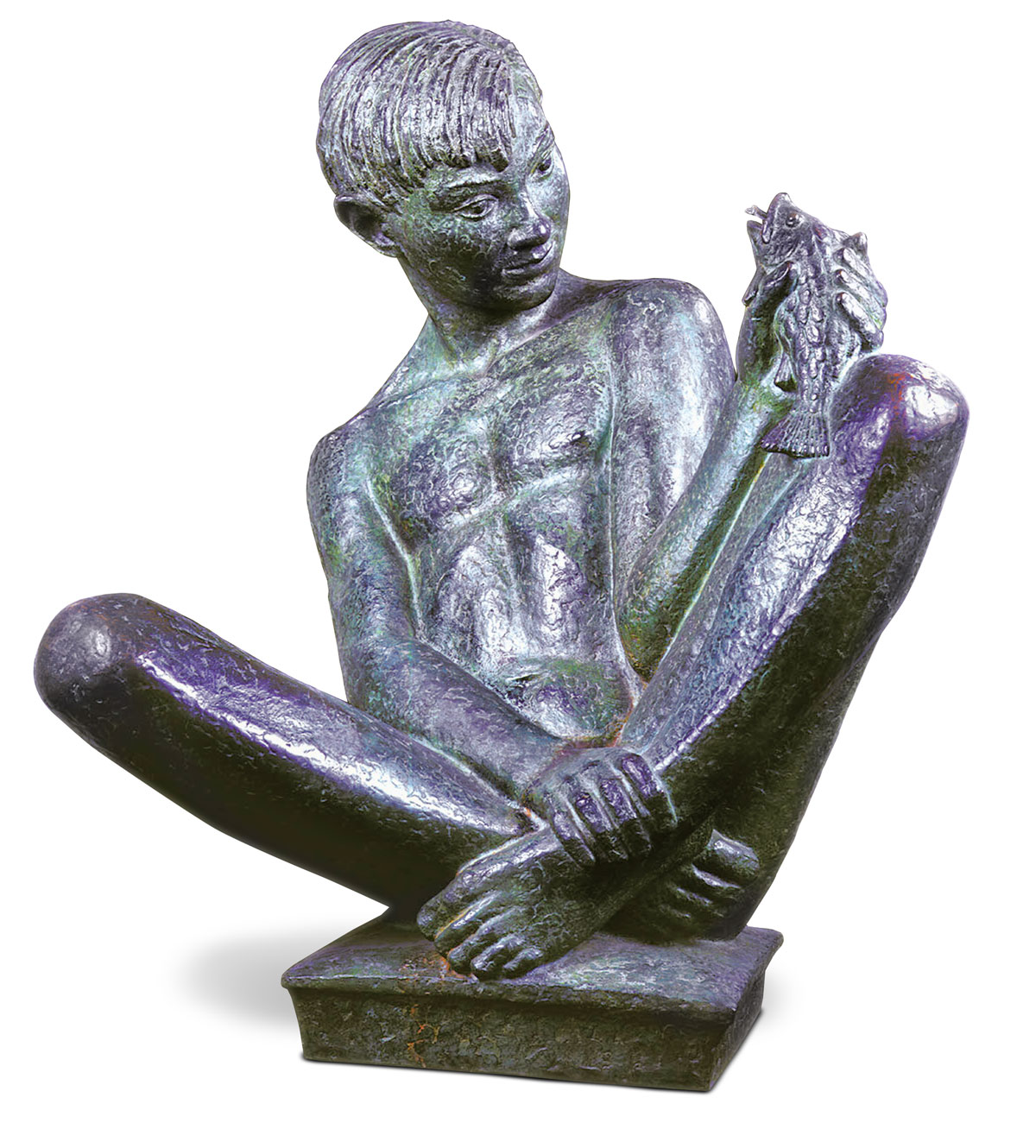 Robert Koepnick (1907-1995)
American
HUCK FINN, c. 1930
bronze
h. 28¾ in.
Gift of Mrs. Herbert Hook
1949.4
Gallery 210
Serving up sculptures to adorn Dayton's most prominent businesses, government buildings, and homes was all in a day's work for Robert Koepnick. A lifelong resident of the greater Dayton area, Koepnick left a lasting mark on this city. Although Huck Finn now resides at The Dayton Art Institute, this bronze originally earned its keep in a private home, spouting water from atop a marble pedestal!
The Sculptor of Dayton, Ohio
Born July 8, 1907 in Dayton, Ohio, Robert Koepnick served as the head of the sculpture department at The Dayton Art Institute from 1936 until 1975 (except during a period of five years during World War II from 1941 to 1946, when he worked as a sculptor at Aeromedical Laboratory at WPAFB). Koepnick married Betty Borland in Wheeling, West Virginia in 1941, and they later had two sons, Richard and John. Koepnick is celebrated in the Dayton area for his prolific artistic career, having provided dozens of public and ecclesiastic sculptures in the city and across the nation. In 1974 Koepnick was awarded the title "Emeritus" at The Dayton Art Institute, and in May 1995 he received the honorary degree Doctor of Humanities at the University of Dayton. When he passed away on July 20, 1995, family, friends, colleagues, and students all praised him for his "gentle" spirit, exceptional teaching abilities, and extraordinary artistic talents.