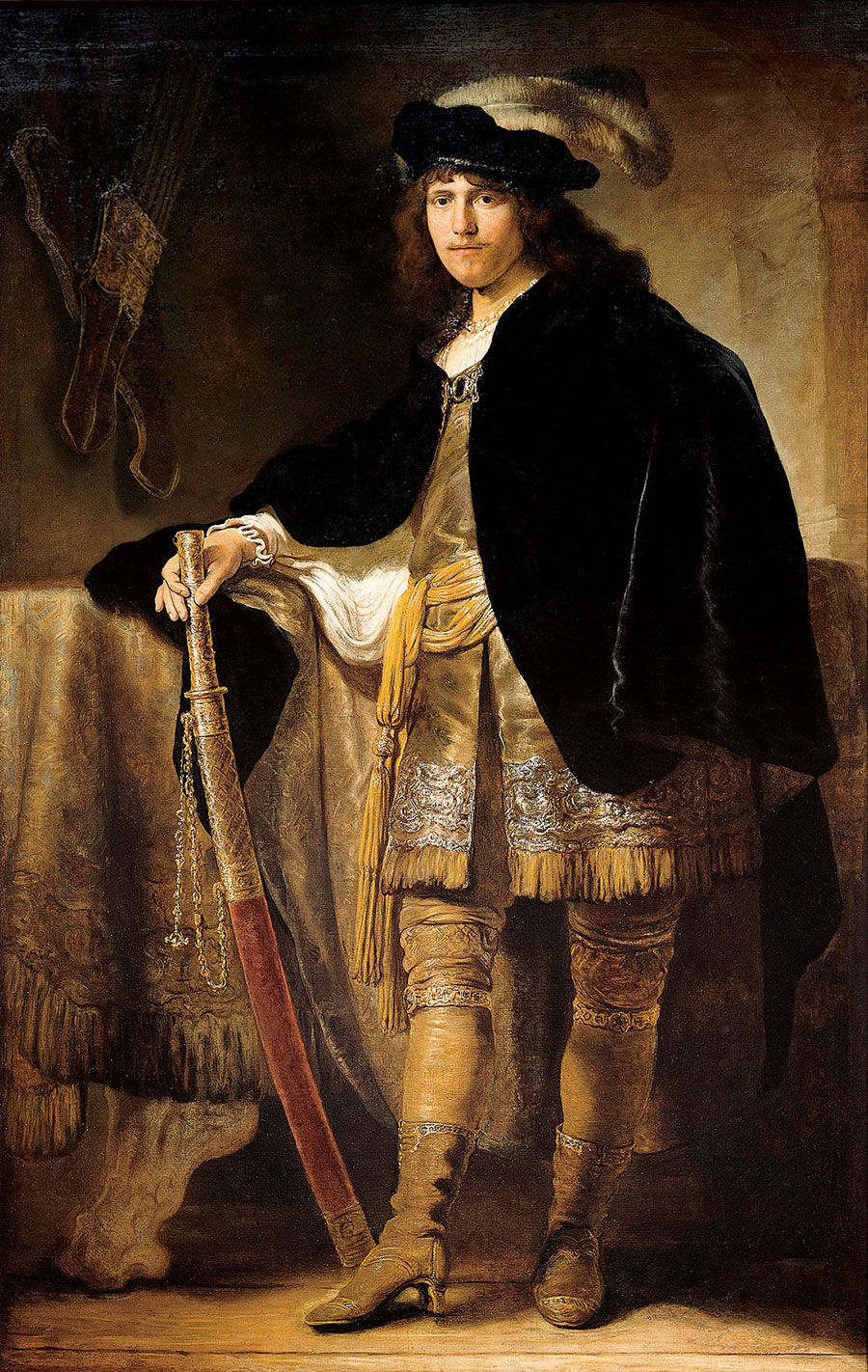 Ferdinand Bol (1616–1680)
Dutch
PORTRAIT OF A YOUNG MAN WITH A SWORD, c. 1635-1640
Oil on canvas
81 x 51 1/2 inches
Gift of Mr. and Mrs. Elton F. MacDonald
1962.18
Ferdinand Bol
Portrait of a Young Man with a Sword
This full-length and larger-than-life-sized portrait of a young dandy, once thought to be a self-portrait, most certainly dates from Ferdinand Bol's years in Rembrandt van Rijn's studio. It would seem to be inspired by several of Rembrandt's self-portraits and other works of the same period. Rembrandt's Reconciliation of David and Absalom of 1642, in the collection of the Hermitage in St. Petersburg, uses almost identical objects to the ones found in Bol's portrait. In the aforementioned Rembrandt and in Bol's portrait, a quiver of arrows, a heavily embroidered velvet tunic, and a velvet scabbarded sword are the studio props evidently shared by master and pupil.
Bol also shared Rembrandt's fascination with unusual costumes and gear. The great sword, fashionable high-heeled leather boots, the richly embroidered clothes, velvet cloak, and plumed cap are far removed from the sober, black garb of most Dutch citizens. Rather, they have more in common with the brightly colored costumes of the subjects favored by Michelangelo Merisi da Caravaggio (1573 – 1610), a revolutionary and controversial Italian artist whose paintings influenced a generation of artists across Europe. Although grounded in a keen observation of detail, the sensuously depicted, exotic finery lends an air of fantasy to this portrait of an unknown friend or artist colleague of Bol's. 
Bol was one of Rembrandt's most talented students and shared his master's interest in complex textures, dramatic use of light and shade, and richly applied paint. After a decade of apprenticeship with the master, Bol opened his own painting studio and began a successful career as a history scene painter and, ultimately, a painter of portraits. Wealthy 17th century Dutch merchants and civil officials all sought to have their portraits painted by famous contemporary painters, and Bol's career, which lasted until 1669, the year of his retirement and – ironically, the death of his teacher, Rembrandt – was based largely on such commissions.