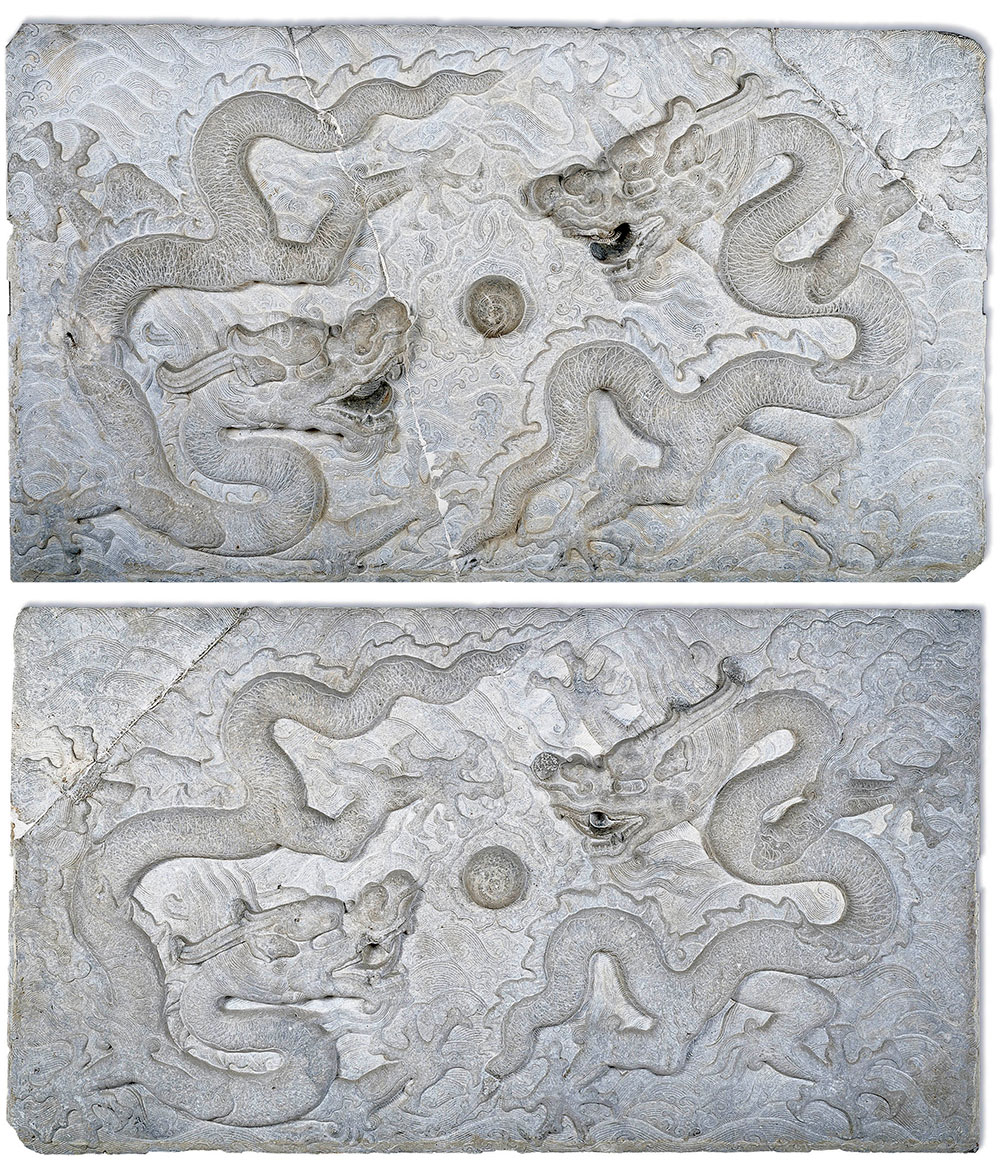 Chinese
Chinese (Ming Dynasty, 1368–1644)
RELIEF WITH DESIGN OF DRAGONS, Marble
50 1/2 x 90 x 4 1/2 inches (each)
Gift of Mrs. Harrie G. Carnell
1928.48.1-2
RELIEF WITH DESIGN OF DRAGONS
This monumental stone relief is one of a pair that was removed in the winter of 1927 from a Buddhist temple near Taiyuan in Shanxi Province in northeastern China. Along with the architectural building, also in this gallery, it arrived in Dayton in 1928 and has been installed in The Dayton Art Institute ever since.
Each panel depicts two dragons flying above the churning water, guarding a pearl, symbolizing both cosmology and immortality. The dynamic carving, and the diagonal composition suggest a date of the Ming dynasty (1368-1644). The monumental scale of the panel and the five-clawed dragon design indicate these panels resemble the large dragon panels on the stairway for the one of the three largest palace halls in the Imperial Palace in Beijing built by the Ming court in the early 15th century.
Further research suggests that these reliefs and the architecture panels may have come from the Chongshan Temple in Taiyuan, originally built in the Tang dynasty (618-907) and renovated in 1381 in the Ming dynasty by Prince Zhu Gang, son of Emperor Zhu Yuanzhang (reigned 1368-98) in honor of his mother, Empress Gao. The temple was destroyed by fire in 1864. The architecture and artifacts that have survived on the site include the temple entranceway, temple halls, murals, and Buddhist statues and scriptures.