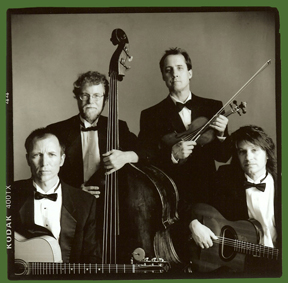 Bob Ross Auto Group Jazz & Beyond: Faux Frenchmen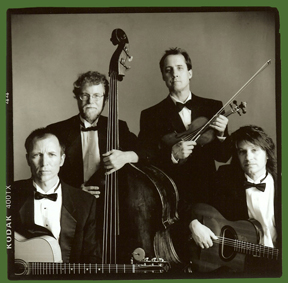 Bob Ross Auto Group Jazz & Beyond presents The Faux Frenchmen! The Faux Frenchmen are acoustic guitarists Brian Lovely and George Cunningham, acoustic bassist Don Aren, and violinist Paul Patterson. They've played Hot Club-driven gypsy jazz in and around Cincinnati and the Eastern and Midwestern U.S. since 2002.
Guitarist Django Reinhardt and violinist Stephane Grappelli fronted the Quintette of the Hot Club of France in and around Paris from 1934 to 1939, and constituted the first generation of European jazz musicians. The Hot Club blended backgrounds in traditional gypsy and European popular and classical music with the then-new sounds of American jazz artists like Duke Ellington, Louis Armstrong , Fats Waller, and Benny Goodman to create a new musical genre, now often called "gypsy jazz."
The Faux Frenchmen adapt the Hot Club's instrumentation and style in forging their own re-Americanized take on gypsy jazz. Their four CD releases, Faux Frenchmen (2007), Oblivion (2008), The Swing Shift (2010), and 3am Waltz (2011) bend the relationship between American and European jazz, utilizing elements of both to create a distinctive stylistic voice.