Join us on the 1st and 3rd Thursdays!
Are you a toddler with an awesome parent/grandparent/caregiver who likes to take you to fun, creative weekday programs? Join us on Thursdays for our popular child and caregiver preschool program, Tiny Thursdays. Ages 2-5 and a caregiver (baby siblings welcome) are invited for story time, a gallery visit and artmaking project.
With monthly themes, each session investigates new stories and DAI collection artworks.
August – Symmetry
September – For the Birds
October – Shapes
November – Patterns
December – Emotions
Can't make it to the museum? Check out Tiny Thursdays…at Home! These creative projects to make at home help connect our collection to your family, regardless of distance. Looking for more family fun? Check out our ARTventures family program!
How To Go
Dates: 1st and 3rd Thursdays; dates vary by month
Times: All sessions take place 11:15 a.m.–12 p.m.
Location: The Lange Family Experiencenter
Cost: $6/child with member caregiver;
$8/child with non-member caregiver
For more information or to register in advance, call 937-223-4ART (4278). You may also register at Guest Services the day of the program.
Recent Tiny Thursdays at Home Lessons & More: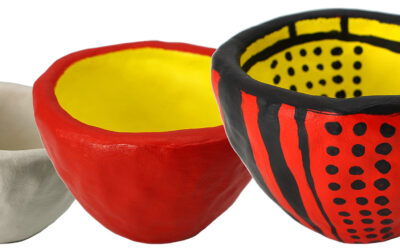 Create a clay bowl with Pop Art style!