Looking for fun and creative projects for you and your family? Take your family on an ARTventure with a variety of art-making experiences.
Guided by a museum educator, each ARTventure explores the artistic processes of a highlighted artwork in the museum's collection. Each month is a different experience for the whole family to enjoy!
This in-person program is perfect for all ages and all levels of artistic ability. Individual creativity and self-expression is encouraged! Drop-ins welcome.
Dates: Every 2nd Saturday
Time: 1-3p.m.
May 13— Use your imagination to create a colorful, illustrative painting!
June 17 (note: ARTventures is on 3rd Saturday this month)– Create a sculpture with clay and wire!
July 8— Using paper folding processes to create a paper relief sculpture!
August 12— Use clay pottery techniques to explore and create a unique sculpture.
September 9— Work together to create a colorful world of butterflies and jellybeans!
October 14— Create a 3D poster of your personal hero or someone you admire.
November 11— Using oil pastels, create a drawing of an imaginary world made of food!
December 9— Transform words, letters, and symbols into an illustrative self-portrait that best describes you!
Cost: Free, advanced registration encouraged
Recent ARTventures … at Home! Projects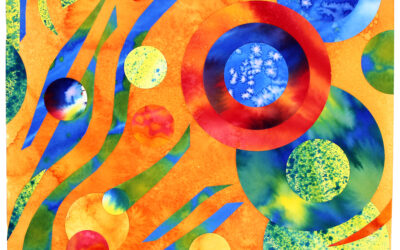 Create a collage inspired by combining several watercolor techniques!