Women artists
in the DAI collection
In honor of Women's History Month, the Dayton Art Institute recognizes and celebrates the contributions of women artists.
Women have made immeasurable contributions to the arts, but their work has too often been overlooked or marginalized, making up a small percentage within many museum collections, including the DAI. We recognize this imbalance and actively seek to expand our holdings of art by women. Fortunately, the DAI does have many items by women in our collection, and their work adds a collectively exceptional lens to art history and identity.
Women's art history is art history, and their stories are for everyone. Read on to learn about selected artists from our collection.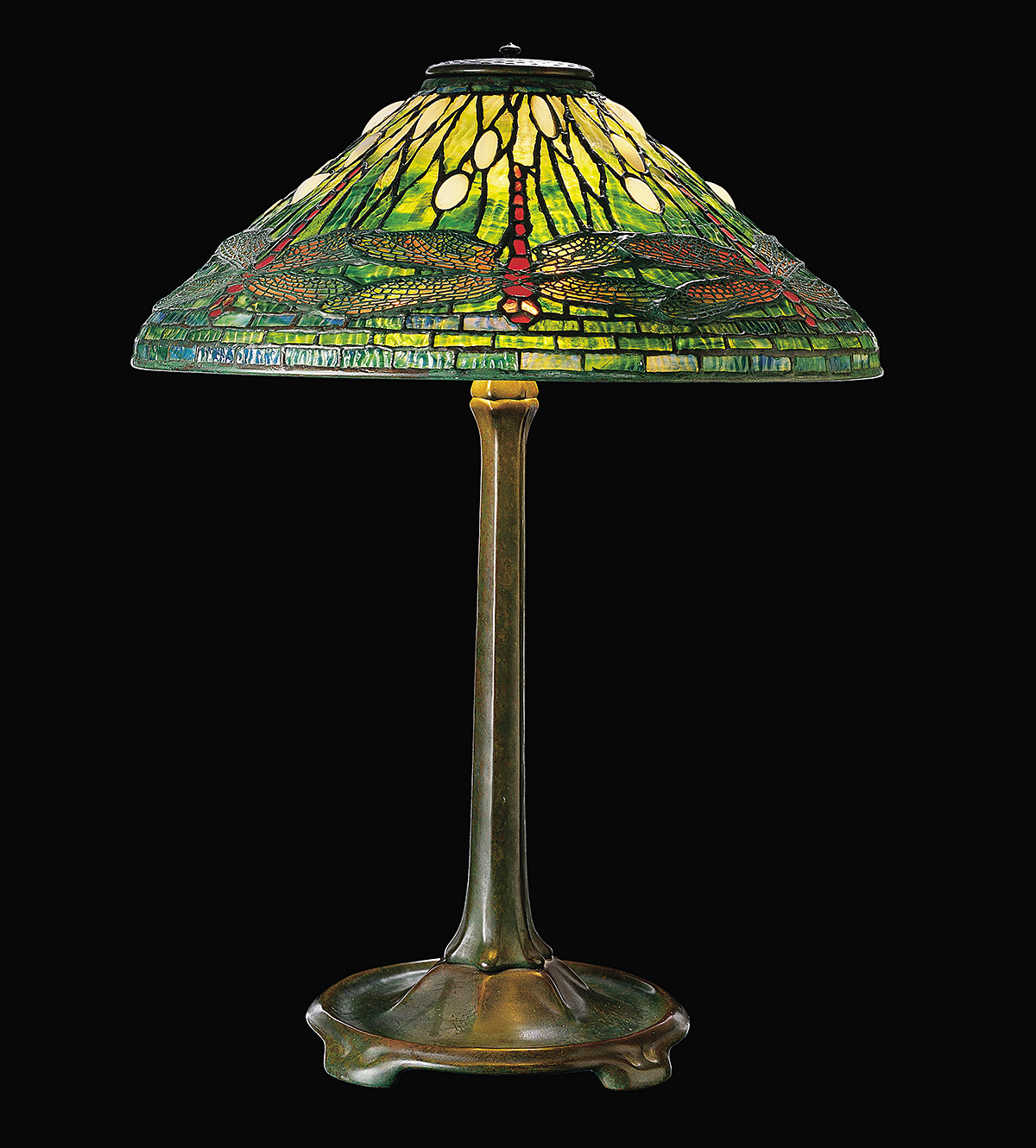 The Dragonfly Lamp was one of Tiffany Studios' most successful works. Its design was conceived by Clara Driscoll and won a prize at the 1900 Exposition Universelle in Paris. The lamp epitomizes Tiffany's Art Nouveau aesthetic of simplified, organic forms and harmonious, vibrant colors.
For marketing purposes, Tiffany Studios attempted to downplay the contributions of the gifted designers that worked at the company, emphasizing Louis Tiffany's artistic direction instead. However, in 2007 scholars examined Clara's personal correspondences and learned of her considerable influence at the company. She was not only responsible for the design of our Dragonfly Lamp, but also for the majority of Tiffany floral lamps produced. The "Tiffany Girls," (as Clara called them) in the Women's Glass Cutting Department, also had significant influence over the final appearance of these objects: they had the freedom to choose the colors and types of glass used and could modify each lamp as needed. Such revelations are a small step to help amend the deep-rooted biases in art history that long failed to record the name of women artists and routinely considered women inferior.
Featured Artwork: Clara Driscoll (American, 1861-1944), Dragonfly Lamp, about 1910, bronze with leaded glass. Museum purchase with funds provided by the James F. Dicke Family in honor of David and Lynn Goldenberg, 2001.48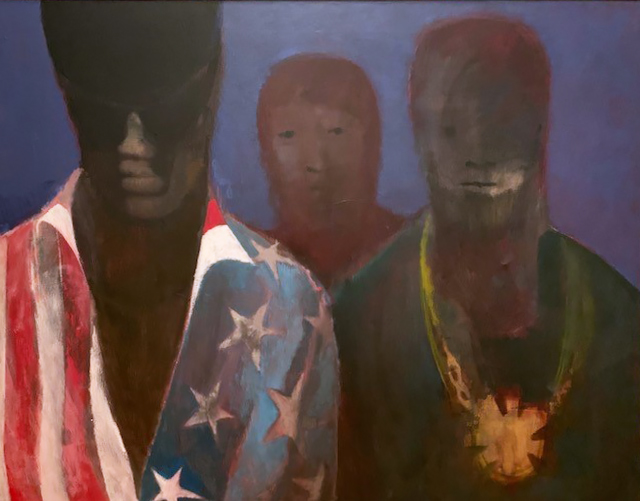 Jo Anne Schneider was a native of Lima, Ohio, who had a successful career as an artist working in New York. This evocative and striking painting was inspired by the demonstrations and civil unrest of 1968. Protests occurred at the Chicago Democratic National Convention and in more than 100 cities across the nation following the assassinations of Senator Robert Kennedy and Dr. Martin Luther King Jr. Art writers at the time praised the painting for its "commentary conveyed in an aura of ominous silence that imbues subjects with religious overtones," and described it as being "eloquent in its expression of angry accusation and defiance." The March is one of two artworks by Schneider in the DAI collection, and it complements the non-figurative works by other women artists such as Helen Frankenthaler and Joan Mitchell.
Featured Artwork: Jo Anne Schneider (American, 1919-2017), The March, 1968, oil on canvas. Gift of Dr. Lois Oppenheim, 2020.3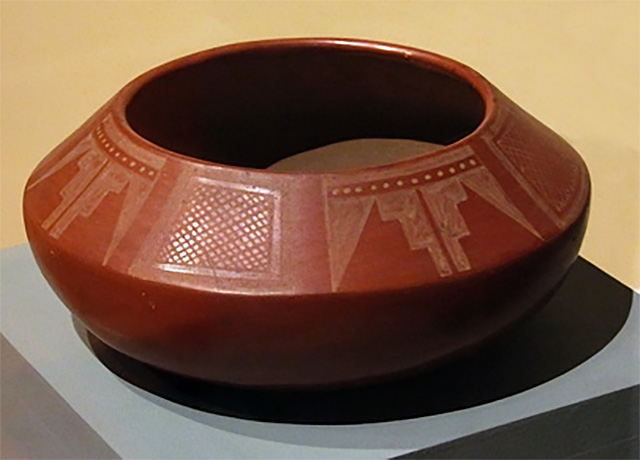 A Native American potter from the San Ildefonso Pueblo, New Mexico (20 miles outside of Santa Fe), Maria Montoya Martinez achieved worldwide acclaim for her work. Many pots that were created by Maria use the ancient hand-coiling method and feature designs made by her husband, Julian, a skillful, self-taught painter. Between 1907 and 1909, she and her husband first began their experimentations in designs and shapes that led them to turn away from the traditional, polychrome pottery of San Ildefonso. Tradition encouraged them to recreate the shapes of ancient pots excavated near the pueblo. Martinez introduced a new style of pottery to the Southwest around 1913 that expanded ancient black-ware traditions, and starting around 1920, these nontraditional pots became wildly popular among collectors. She showed works and demonstrated pottery-making at the World's Fair until World War II, helping to bring Martinez international fame and elevate the popularity of Pueblo pottery in general. Ironically, by breaking from traditions, Martinez and her husband have been credited with the revitalizing of the traditions of pottery.
Maria Montoya Martinez learned to make pottery as a young girl. She ultimately trained the next three generations of her family in the artform. In 1973, she received the initial grant from the National Endowment for the Arts to create pottery-teaching workshops.
Featured Artwork: Maria Montoya Martinez (American, 1887-1980), Jar, 20th century, earthenware. Gift of Mrs. Charles Morgan Wood, 1931.33.6

Carrie Mae Weems is one the most well-known contemporary American artists working today. She is known for her photography, but the artist also works in video, performance, text and fabric. She is particularly interested in examining the serious social, political and psychological issues facing African Americans, such as racism, sexism, politics and personal identity. "Black experience is not really the main point; rather, complex, dimensional, human experience and social inclusion … is the real point," says the artist, (Tidwell, D. 2012. Seeing the Unseen: Carrie Mae Weems, Groundbreaking Photographer Opens at the Frist, Travels the U.S. Nashville Arts Magazine).
Weems is also interested in exploring relationships in contemporary culture. By examining the fictional narratives—stories, romance novels, and soap operas—with which we are confronted daily, she calls upon our shared knowledge and associations to tell the story of love, longing, and loss.
Featured Artwork: Carrie Mae Weems (American, b. 1953), Untitled (Black Love), 1992, gelatin silver print, 3/10. Museum purchase with funds provided by the 1994 Associate Board Art Ball, 1994.13.1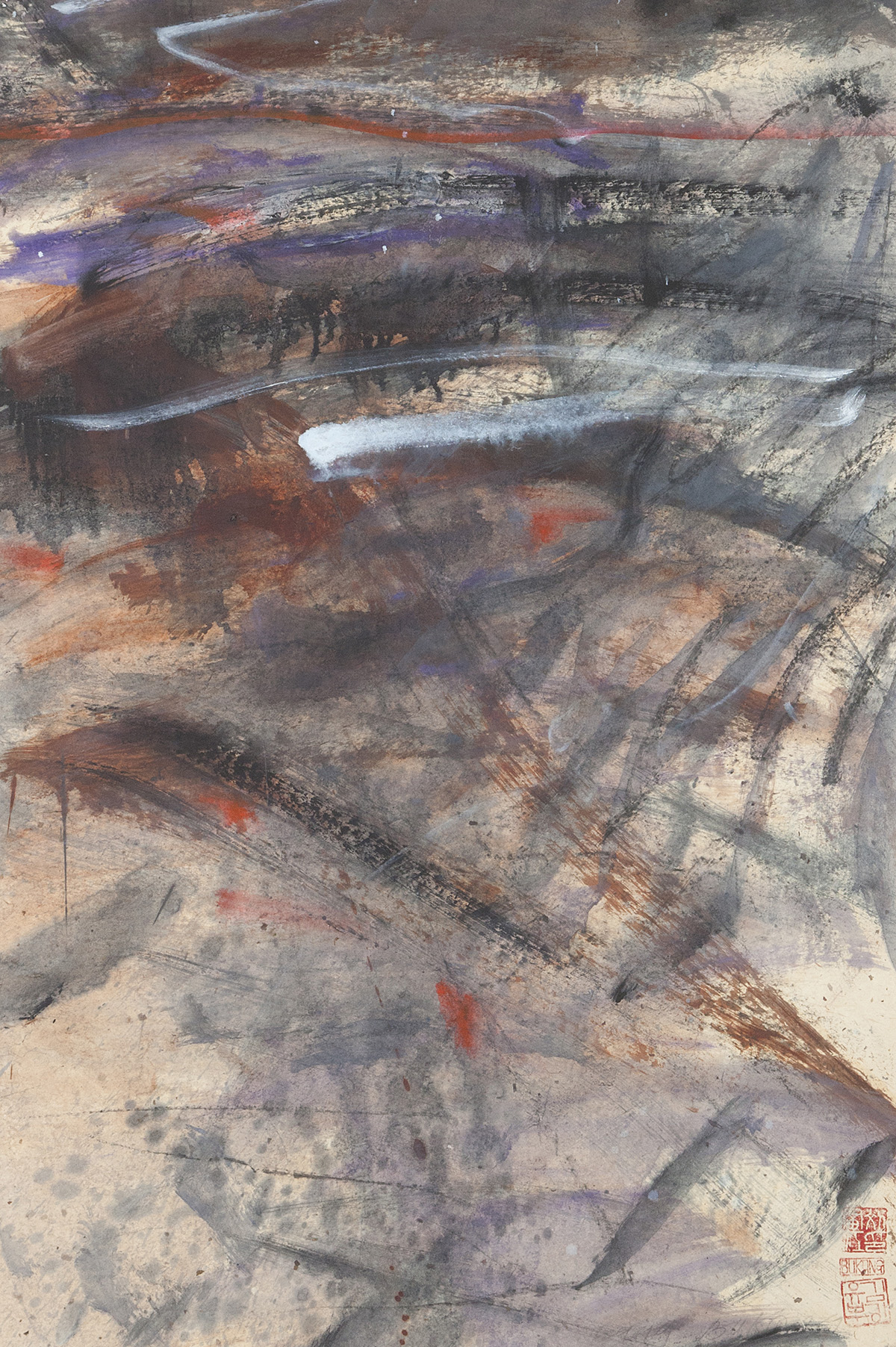 Throughout her career, Kim has navigated being a Korea-born American artist based in Cincinnati. She draws on the artistic traditions of both Asia and America to create a distinct body of work that is intensely personal and strikingly universal.
Journey to the East is a series based on Kim's visit to Siberia during the late 1990s. More than 5 million square miles, Siberia is a sparsely populated region in northern Russia with long, harsh winters. Kim describes the land as "bold, wide, wild and without much color." Later, working from photos of the trip as a prompt for memories of the vast landscape, she translated her experience into this series, working quickly. Quick and slow, thick and transparent brush strokes build up the surface, creating an abstracted vision that may invite a range of responses: peace, longing, loneliness, contemplation. These snapshots invite us to enter an imaginary place and thereby to think about where we are and where we want to be.
Featured Artwork: Bukang Y. Kim (American, born in South Korea), Journey to the East #9, 1999, oil paint and charcoal on mulberry paper. Gift of Bukang Yu Kim, Dr. Young Ghon Kim and Children, 2020.16.9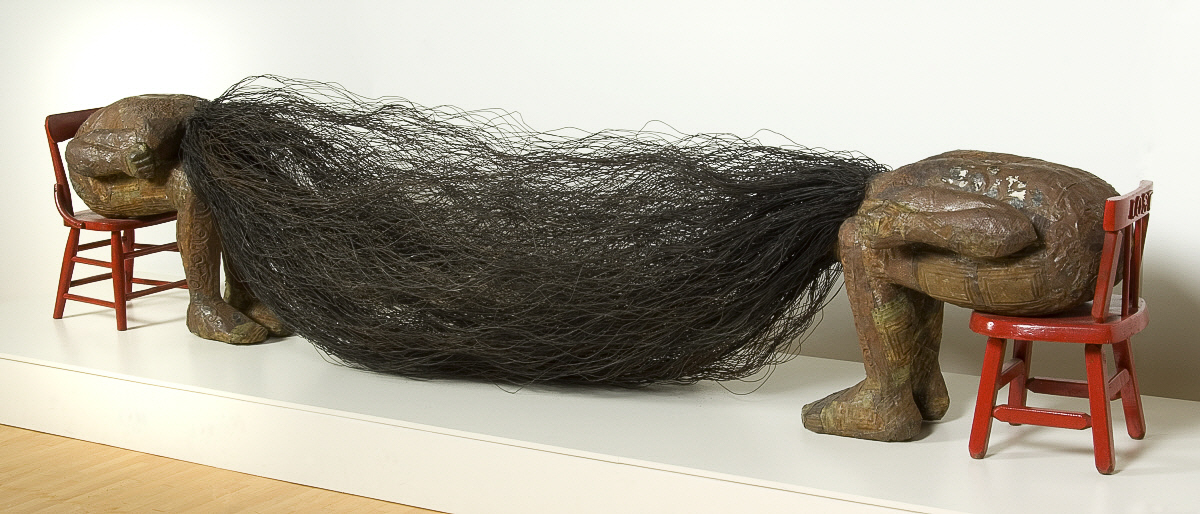 Known for narrative and figurative sculptures made from seemingly everyday materials, Alison Saar creates artworks that are meant to involve the viewer's participation. She comes from a family of artists; her sisters and father are practicing artists, and her mother Betye Saar is in museum and gallery collections nationwide. Alison was immersed in the arts by both of her parents from an early age, as her father took her to museums and her mother would enlist her help with scavenging for charms, bones, clock faces and other found objects to create her assemblage art.
Self-identifying as African American, Alison creates works that explore identity duality and a fusing of traditional Western aesthetics with that of non-Western cultures. Her figurative sculptures are often made of wood, metals, linoleum, beads and/or other media, and the characters are those to which she feels a strong emotional response. "Some of them are historical … some of them are personal, people I meet. Sometimes it's people I see from the windows and just make up stories about. And some are combinations," says Saar, (Lawrence, S. [1993]. Directions: Alison Saar. Hirshhorn Museum and Sculpture Garden).
Featured Artwork: Alison Saar (American, b. 1956), Lost and Found, 2003, wood, tin and wire. Museum purchase with funds provided by the 2004 Medici Society, 2004.16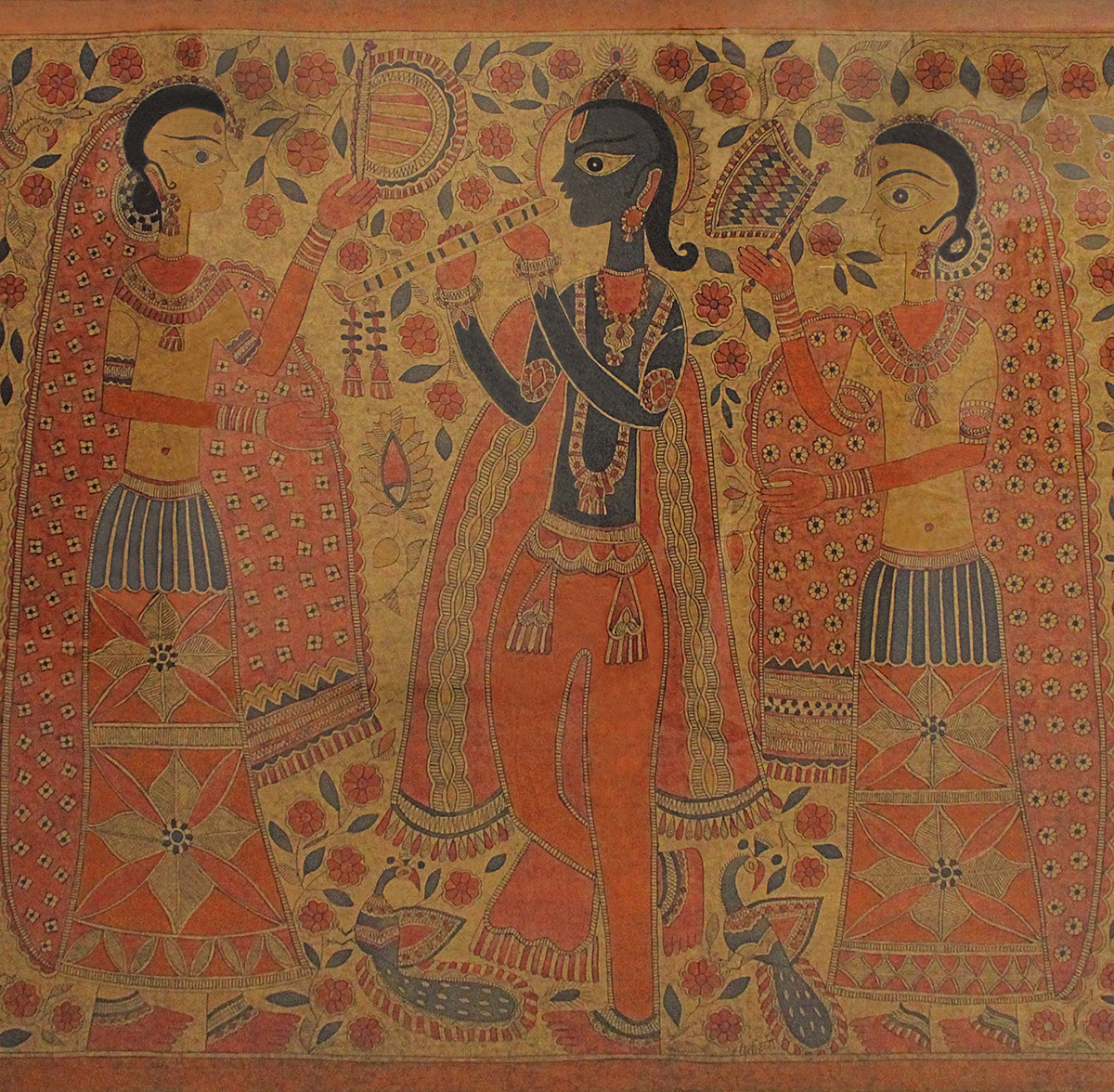 In the DAI collection, this painting by Sita Devi is the only Indian artwork by a named woman artist, and it is the only example of the Mithila painting style. Created by women artists in the Madhubani district of the state of Bihar in northeast India, Mithila (or Maithil) artworks were traditionally painted as murals on the outsides of homes, often for special occasions. They drew on natural and devotional motifs, especially Hindu figures, and feature strong outlines and flat fields of color. Mithila paintings came to international attention in the mid-20th century and with support of the Indian government, some of the artists began to produce paintings on paper for sale. Some of the women, such as Sita Devi, became celebrated. Even today, painting remains a source of economic and social independence in this region. The Mithila Art Institute, a key training center in the region, continues to train artists in the painting tradition among other artforms.
Born in 1913, Sita Devi was a Mahapatra Brahmin from the village of Jitwarpur. The artist lived to be 92 years old, enjoying a long life and honorable artistic career. In addition to her own creative practice, she also worked to uplift and support her village through education and economic empowerment. In 1981 and among other recognitions, she was awarded the Padma Shri, one of the India's highest civilian honors. Devi exhibited her artworks in more than ten countries, and she is in the collections of museums and galleries worldwide.
Featured Artwork: Sita Devi (Indian, 1913-2005), Krishna and the Gopis, about 1970 (detail), ink and paint on paper. Gift of John C. and Susan L. Huntington in honor of Robert and Judith Lubin, 2020.45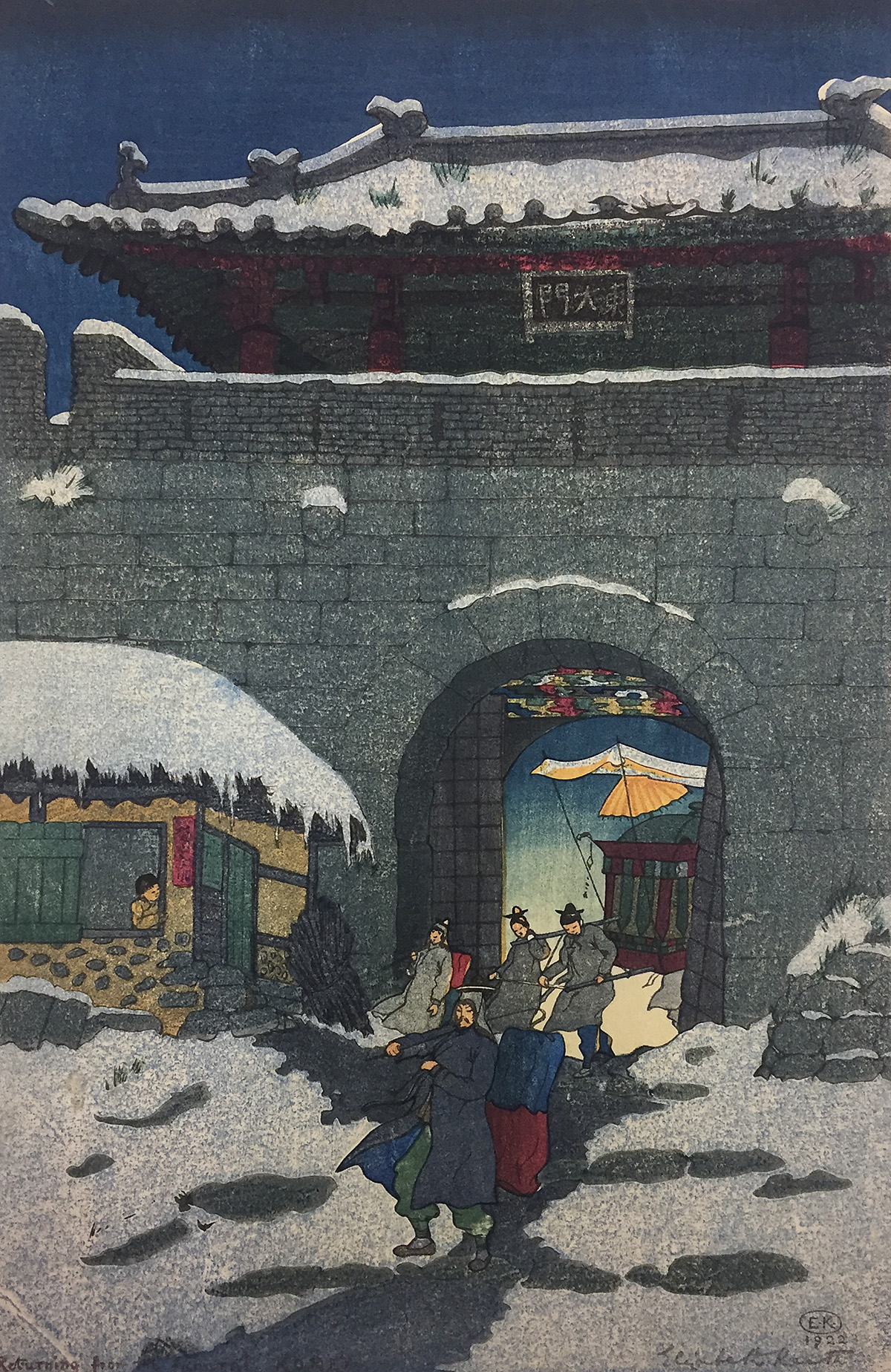 Elizabeth Keith was a Scottish-born artist well-known for her printmaking and watercolor paintings. Returning from the Funeral is one of the few examples in the DAI collection of a Euro-American artist being influenced by and practicing in Japanese print traditions. Keith depicts a moment of daily life from time spent in Korea, as much of her artwork was influenced by travel through Asia.
Keith was born in Scotland but raised in Ireland. She was not formally trained yet had natural artistic talents from an early age. In 1915, she traveled to Japan to visit family. This trip was only supposed to last a few months but Keith was so taken by Japan she ended up staying nearly nine years. Using Tokyo as her home base, she traveled extensively throughout Asia and became particularly fond of Korea. At an exhibition of her watercolors in Tokyo, she met publisher Watanabe Shozaburo, who suggested she allow him to develop one of her paintings into a print. In the years that followed, Watanabe published over 60 woodblock prints of Keith's work. She took to the print process, often sitting alongside the printers in order to learn more and ensure the final results she desired. During World War II, Keith helped raise money to support women in China affected by military violence. The artist is represented in museum and gallery collections worldwide.
Featured Artwork: Elizabeth Keith (Scottish, 1888-1956), Returning from the Funeral, 1922, woodblock print. Museum purchase, 2018.14