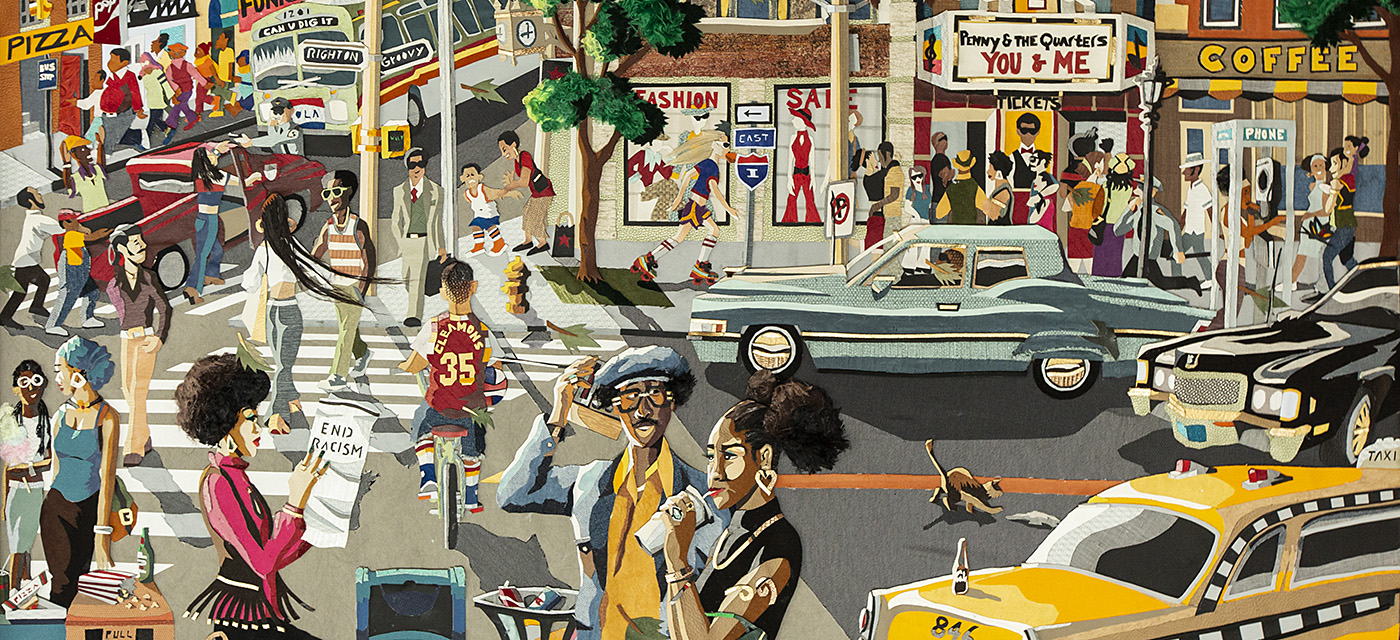 Black Heritage Through Visual Rhythms
FINAL DAYS! EXHIBITION CLOSING MAY 22
On View February 26–May 22, 2022
The 2022 Special Exhibition season kicks off with the DAI exclusive Black Heritage Through Visual Rhythms, presented in collaboration with Dayton's own African American Visual Artists Guild.
This juried exhibition highlights exceptional contemporary art, including paintings, sculpture, multi-media art, printmaking and photography, by nationally recognized and emerging African American artists from across the United States. Black Heritage Through Visual Rhythms features 85 works by 44 artists.
This marks the seventh annual presentation of Black Heritage Through Visual Rhythms and its first time being hosted at the Dayton Art Institute. The exhibition's Best in Show winner will be featured in a 2023 Focus Exhibition at the DAI.
A full-color catalog, available for purchase at the Museum Store, accompanies the exhibition. A number of related programs are being planned in conjunction with Black Heritage Through Visual Rhythms; follow the link, and check back often for updates!
Interactive Virtual Tours: Live via Zoom
Join a Museum Educator on Zoom for an interactive discussion of the major themes on view in Black Heritage Through Visual Rhythms. Using close-looking and conversation, you will explore various forms of contemporary art and catch a preview of the exhibition with this 60-minute virtual program.
Upcoming Program Dates:
Saturday, May 14, 11 a.m.
Thursday, May 19, 6 p.m.
Saturday, May 21, 11 a.m.
This program is free of charge but advance registration is required; call 937-223-4278 during regular museum hours or register online via the link below. Once registered, you will receive a separate email with the virtual meeting information and link. Please register with an email address checked frequently!
Have a question or want to request a specific date and time for your group? Email schooltours@daytonart.org. We look forward to seeing you online!
The African American Visual Artists Guild is a Dayton-based non-profit committed to serving the arts, artists and community by promoting, developing, empowering and cultivating visual arts and artists.
Featured Image: Don Coulter, The Seventies Groove (Detail), 2020, Leather, Suede, Denim, Synthetic Hair, Wood, Various Fabrics, 36″ x 48″ x 2″.
Thank You to Our Exhibition Sponsors
BENEFACTOR
AES Ohio Foundation
SUPPORTING
Norman and Mary Rita Weissman
ADDITIONAL SUPPORT
The Dayton Chapter of The Links, Incorporated
University of Dayton
SUPPORTING MEDIA SPONSOR
ThinkTV PBS
COMMUNITY PARTNERS
African-American Community Fund's John and Hester Moore General Purpose Fund
The Dayton Foundation
Infinite Management Solutions
Bob Ross Auto Group and the Norma J. Ross Memorial Foundation