POP, FIZZ, CLINK!
Party Pack sales have ended – thank you to everyone who purchased! Please see below for pickup instructions.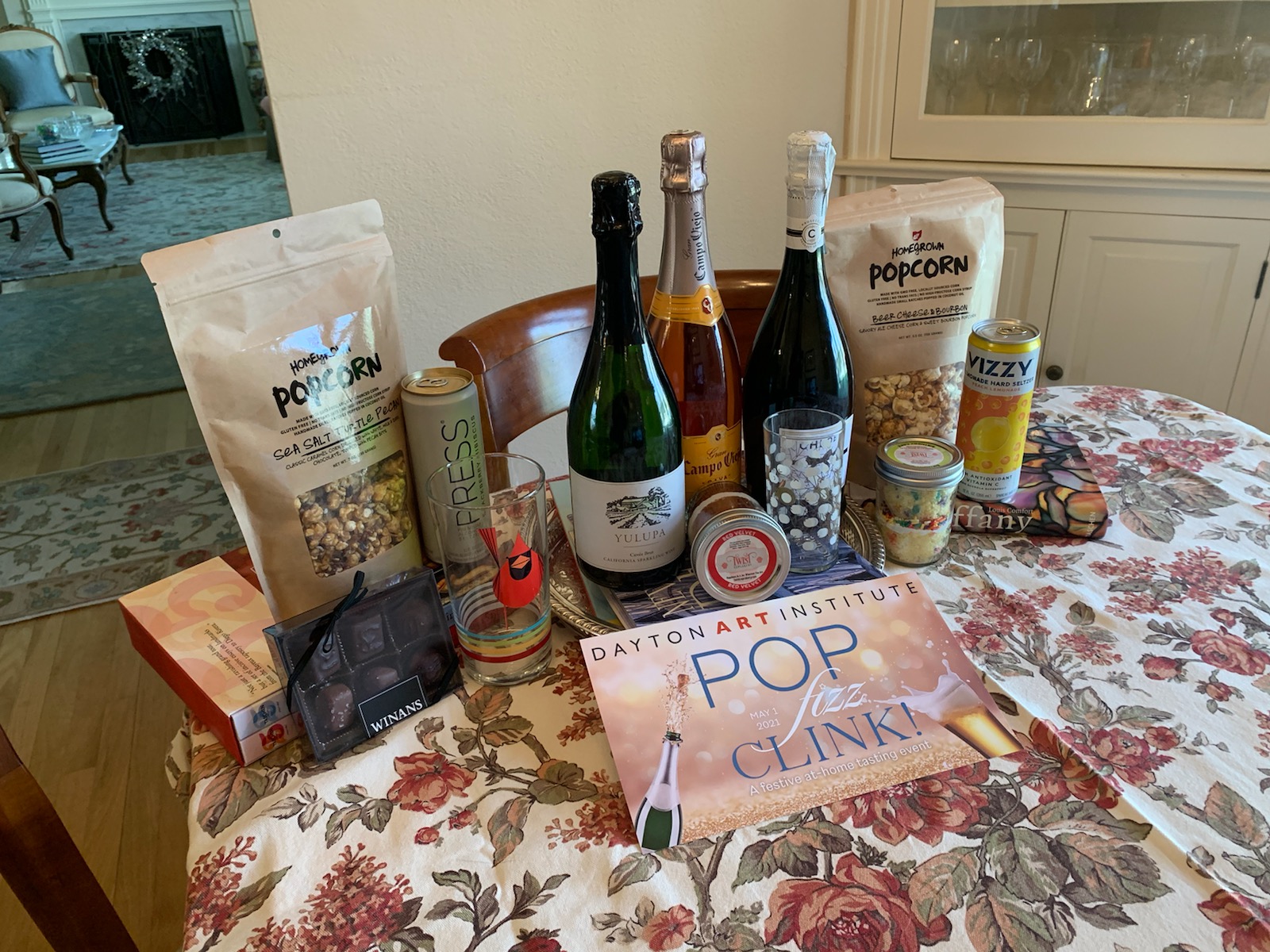 Join the DAI for a fun & festive at-home tasting event on Saturday, May 1. Sip & savor while supporting the museum through this new fundraiser!
Featuring Sparkling wines, beers, seltzers and special surprises in a commemorative Party Pack, this first-ever online event will be just the thing to jump start your spring!
Each guest receives three bottles of wine, two beer selections and two specialty hard seltzers, plus special treats and access to an exclusive online party taking place on May 1, at 7:30 p.m. Upgraded VIP Party Packs are also available and include additional treats and gourmet goodies!
The May 1 online party will feature music from Blue Heron Trio, a virtual tour of POP Art in the museum's collection, beer, wine and hard seltzer tasting presentations, and much more! The virtual doors open at 7:15 p.m., and the online party starts at 7:30.
You must purchase a Party Pack to take part in the May 1 event; Party Packs sales ended on April 16.
PARTY PACK PICKUP
Party Packs will be available for pickup at the DAI this Saturday, May 1, from 11 a.m. to 3 p.m. This is a curbside pickup event; please follow the signs in the parking lot and look for the tents near the main entrance. If you have questions about pickup or need to make other arrangements for pickup, please email info@daytonart.org. This is a pickup-only event; Party Packs cannot be shipped. No substitutions.
PARTY PACK INFORMATION
Party Packs include:
Wine: Campo Viejo cava, Yulupa sparkling, Chole prosecco
Beer: New Belgium Dominga Mimosa Sour and Deschutes Obsidian Stout
Seltzer: Press Seltzer and Vizzy Lemonade
One bag of gourmet popcorn from the American Classic Snack Company (turtle pecan sea salt)
Party video access
VIP Party Packs include everything in the Party Pack, plus these tasty additions:
Six-piece chocolate box from Winan's Chocolates + Coffee
An additional bag of gourmet popcorn (bourbon beer cheese flavor) from the American Classic Snack Company
Two cupcakes in a jar from Twist Cupcakery (pink moscato & merlot red velvet)
PARTY PACK SALES HAVE ENDED. Thank you to everyone who supported this event! Watch your email for updates about pickup and the online party.
PLEASE NOTE THE FOLLOWING:
This is a pickup-only event; Party Packs cannot be shipped. No substitutions.
Participants must be at least 21 years old and residents of the state of Ohio. Participants who place orders are asserting that they are 21 years old or more and are Ohio residents. Participants must produce a valid photo identification, including proof of Ohio residency and age, when picking up packages. No exceptions will be made. The DAI reserves the right to make product substitutions in Party Packs if necessary.
Thank You to These Businesses for Supporting Pop, Fizz, Clink!
Sponsors
Bonbright Distributors
Dayton International Airport
Enterprise Roofing & Sheet Metal
Heidelberg Distributing
White Allen European Auto Group
Special Thanks
American Classic Snack Company
Twist Cupcakery
Winan's Chocolates + Coffees