Language of Art is DAI's book club series for adults, young adults, and lifelong learners. An Educator or Curator selects a reading and guides an hour-long discussion that connects the book's themes to collection artworks or to exhibitions. This program explores a diversity of literary genres and is open to readers of all interests, from book-lovers to newcomers.
Check back often for updates and new sessions!
NEW ONLINE SESSIONS!
The Divine Narcissus by Sor Juana Ines de la Cruz
Session 1: Saturday, November 6, 12-1 p.m.
Session 2:  Thursday, November 18, 12-1 p.m.
Cost: Free to members & non-members; advance registration required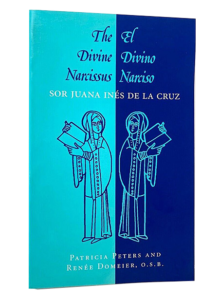 Join Museum Educator Ayn Wood in discussion of the play The Divine Narcissus by Sor Juana Ines de la Cruz (University of New Mexico Press; 1998). We will discuss art in the DAI collection related to themes in our book. Limited copies are available at Dayton Metro Library/Search Ohio, or it is available for purchase from any major book vendor.
Can't attend on the 6th? This Language of Art session will also be offered on Thursday, November 18!
Please note: Language of art book selections may be subject to change.
How to Go
Advance registration required for all sessions!
Upcoming Sessions
November 6 & 18
Time
Both sessions take place 12-1 p.m.
Cost
Free to members and non-members
For more information or to register by phone, call Guest Services, at 937-223-4ART (4278) during regular museum hours.