Lange Family Experiencenter
Stories in Cloth opens September 28!
How do artists use fabric? How might artworks in fabric, cloth or textiles tell a story?
Stories in Cloth is an exhibition designed for youth and families to learn all about the rich world of textiles in our nationally-renowned the Lange Family Experiencenter. Each artwork in the exhibition is made from cloth or fabric—also known as a textile—and many were created through sewing, stitching, weaving or quilting. Textile artworks tell stories, perhaps about the artist who created it or about those in the community who used it. From the women of Turkmenistan who gathered to embroider together to the fancy wear artists created for their community's most celebrated occasions, every artwork tells its own story.
Connected to topics of reading, heritage, history and cultural art, the exhibition aligns to OH K-5 learning standards in ELA, Social Studies and Visual Arts. With interactive engagements promoting discussion and hands-on learning, it also supports 21st century, visual literacy and Common Core Speaking & Listening skills.
An Interactive Art Gallery for All Ages!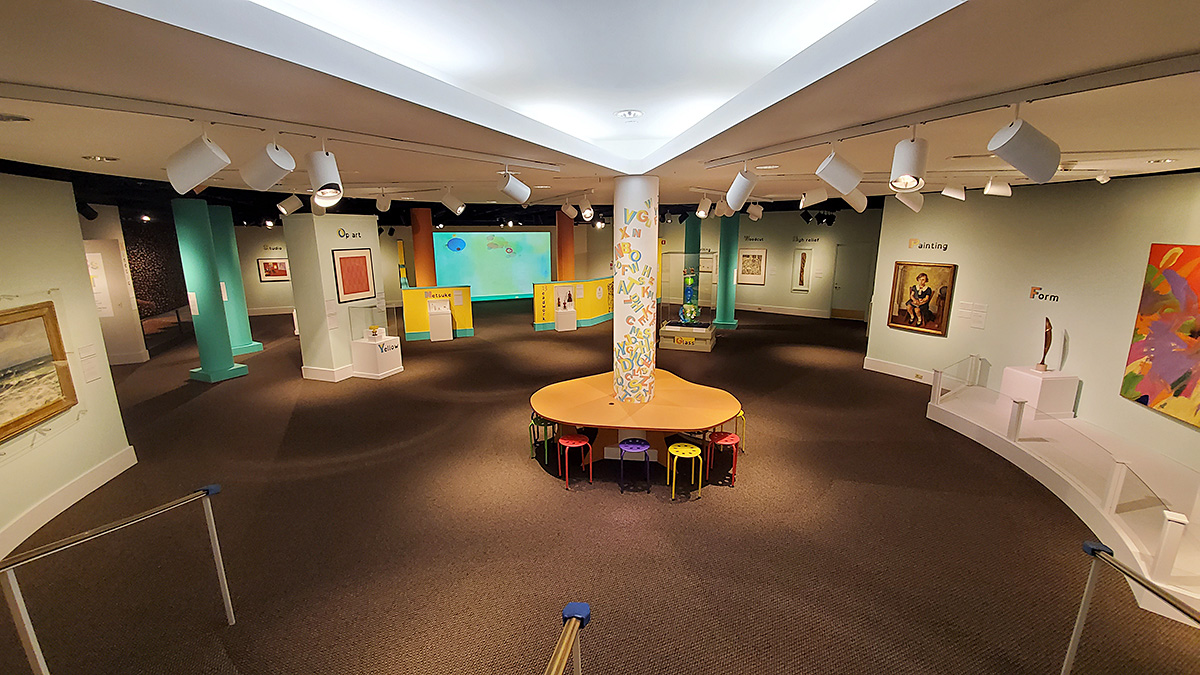 Year-round, The Lange Family Experiencenter provides informal learning opportunities for children and their caregivers, encouraging families to engage with art and learn together. Exhibitions are designed to inspire exploration, collaboration, enhance family learning and provide a social experience in a relaxed museum setting.
Yeck Artist-in-Residence Fellowship
The Yeck Artist-in-Residence (AiR) fellowship engages a local artist with museum guests, particularly families and children in DAI's nationally renowned Lange Family Experiencenter (LFE) gallery. The program provides a paid opportunity for greater Dayton area artists to create an original, participatory art project related Stories in Cloth, a year-long exhibition about textile-based artworks. By designing and offering an interactive and engaging hands-on creative arts experience, the AiR supports families' and children's connection to museum spaces. Length of residency varies. Please visit DAI's employment page to learn more.
Shimmering Madness
A permanent installation by Sandy Skoglund
Created by artist/photographer Sandy Skoglund in 1998, Shimmering Madness is an installation of two jellybean-covered mannequins assembled in dance-like poses on a jellybean-covered floor. Small, kinetic, hand-painted butterflies cover the surrounding walls. By incorporating multiples of everyday objects, such as food, into her installations (seen here in the form of thousands of jellybeans), Skoglund redefines the concept of what is precious and beautiful in art.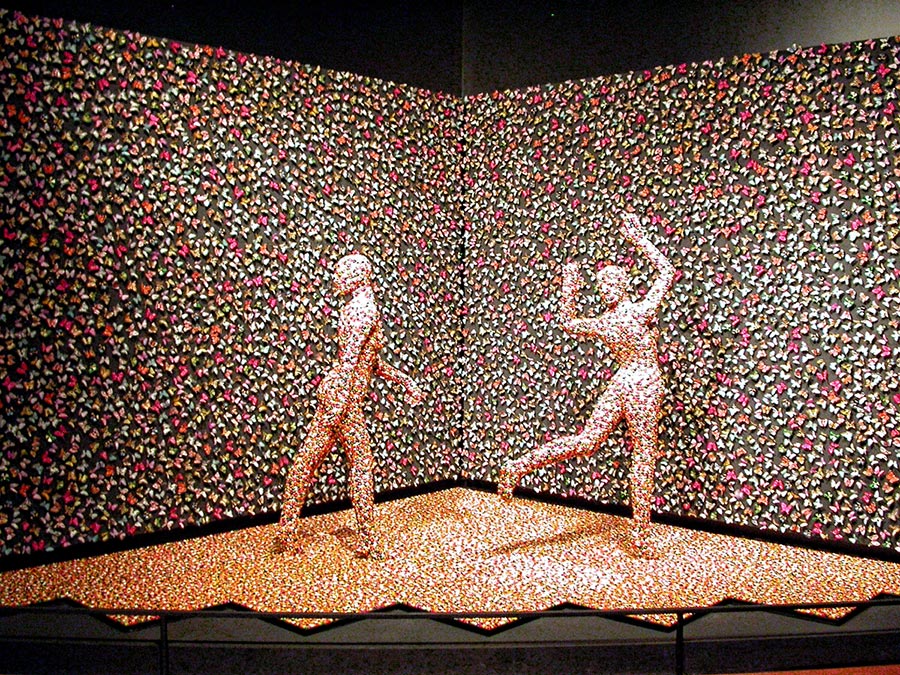 "I like to work with food because it is a familiar material," Skoglund explains. "The value of art, the educational value of art, the sort of life affirming value of art has to do with bringing our awareness of the everyday miracle that's around us, that everything is, in its own way, if you look at it, quite strange and quite marvelous. For me, food is an icon of familiarity, which is so natural to us on a daily basis that it's almost invisible." Skoglund has achieved international recognition as a photographer, and her installations have been commissioned and acquired by museums and universities around the world.
Image: Sandy Skoglund (American, born 1946), Shimmering Madness, 1998, jelly beans, wood, plastic, metal, motors. Museum purchase, 2001.34
HOW TO GO

Visiting the Experiencenter is always free and included with general museum admission.
SPONSORS
Title Sponsor:
The Lange Family
Benefactor:
AES Ohio Foundation
Patron:
PNC
Dayton Freight
Supporting Sponsor:
Mathile Family Foundation
Additional Support:
Marion's Pizza Piazza
Betsy Whitney
Laura Monington
Todd Albrecht
Experiencenter Endowment Fund established by
William and Dorothy Yeck
The Harry S. Price Jr. Family Fund